You already know you can organize your object collection with the MOON Object System. Imagine how fantastic it would be if you could digitally share some of that object content and media. Now you can.
Meet Modules, the other side of MOON.
This month we're introducing the Featured Object Module, which is the perfect way to highlight one of your objects. Simply select a work, decide what information and which media files you want to share, customize the look and feel of your Module, and create an engaging, responsive display that can include multiple images, audio files, and videos.
The Featured Object Module is ideal for:
Highlighting a new acquisition or donation
Showcasing your latest work
Presenting a key exhibition object
Featuring an object of the day, week, or month
Telling the story of a work's discovery, provenance, conservation, etc.
Creating digital object labels
More Modules coming this summer!
---
How to Try Modules
Step 1: Sign Up for a free Objects and Order account.
Step 2: Explore the MOON Object System.
Step 3: Create a Base and start a 7-day free trial (no credit card required) or a monthly subscription (cancel anytime).
Step 4: Add some objects. Add and organize object data, content, and media.
Step 5: Create a Module!
---
The Module Builder
Select an object you want to feature and add it to a Module. Now you're ready to create and compose your Module using the Module Builder.
Simply toggle on object data and media files for display and arrange elements by dragging and dropping.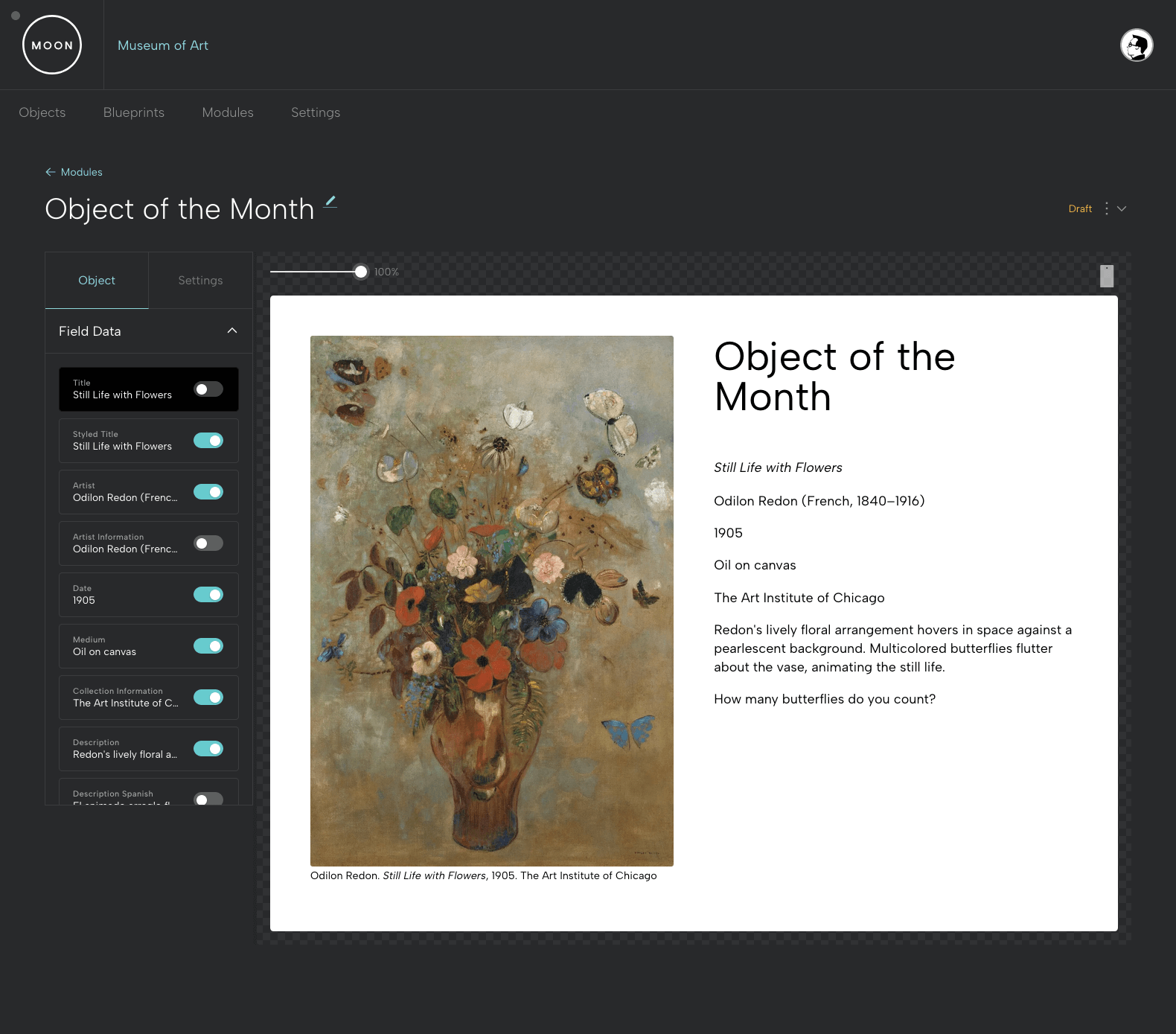 Choose your aspect ratio, select fonts and colors, and customize the look and feel.
It's ready to share!
---
How To Share a Module
It's time to publish your Module.* If you need to make any updates later, it's simple to make changes and republish. And, if you no longer wish to share the Module, you can unpublish it.
There are two ways to display a Module:
View and share via an Objects and Order url, like this one:
https://objectsandorder.com/view/modules/c31d8OksU7hZGm8QrPby
Embed a lightweight Module on your own website: Just copy the short embed code and paste it into your website's html. Learn more about embedding in Sharing a Module.
*To publish a Module, you'll need an active MOON Base subscription. With the 7-day trial, you can still create as many modules as you like.
---
With the MOON Object System, you can organize your object collection and share outstanding presentations and projects with Modules.
We'll be adding more Modules soon!