Object and Order's MOON Object System is an amazing planning tool.
Whether you're preparing an exhibition, digital project, publication, or collection survey — any project with your objects — you can collaborate with your team and streamline efforts.

Access and update data, content, and media in one space, instead of across multiple applications, and without spending tons of time searching through folders of jpgs and version after version of docs and spreadsheets, all marked "final."

Learn more about the MOON Object System.
Use an Existing MOON Base
If you already have a MOON Base, add a new Blueprint for your project and add project-specific fields. Switch selected objects from their current Blueprint to the project Blueprint (you can switch back at any time).
Need help customizing your Blueprint? See Art of the Blueprint.
To keep track of all your projects across Blueprints, we recommend creating a DataSet. We called this one Projects.
In the Core Blueprint, create a field (we labeled this one Projects) with a DataSet field type. Here we selected the Projects DataSet and toggled on Multiselect. We also added a Project Information Section Heading.
When you add information for an object, you can select all that object's projects.
Start a New MOON Base
If you don't have a MOON Base yet, create a project-specific Base, subscribe, and invite your project team. Your Core Blueprint could include fields for everything you need to plan. Then just add your objects!
The monthly Base subscription offers tremendous flexibility. Once your project has successfully concluded, you can download your data (as a CSV or JSON file) and your media files, and then end your subscription. Then you can start a new Base when you're ready for your next project!
---
Let's take a look at a sample Blueprint for planning an exhibition. When you view an object with that Blueprint, you'll see the project-specific fields in which you can enter information.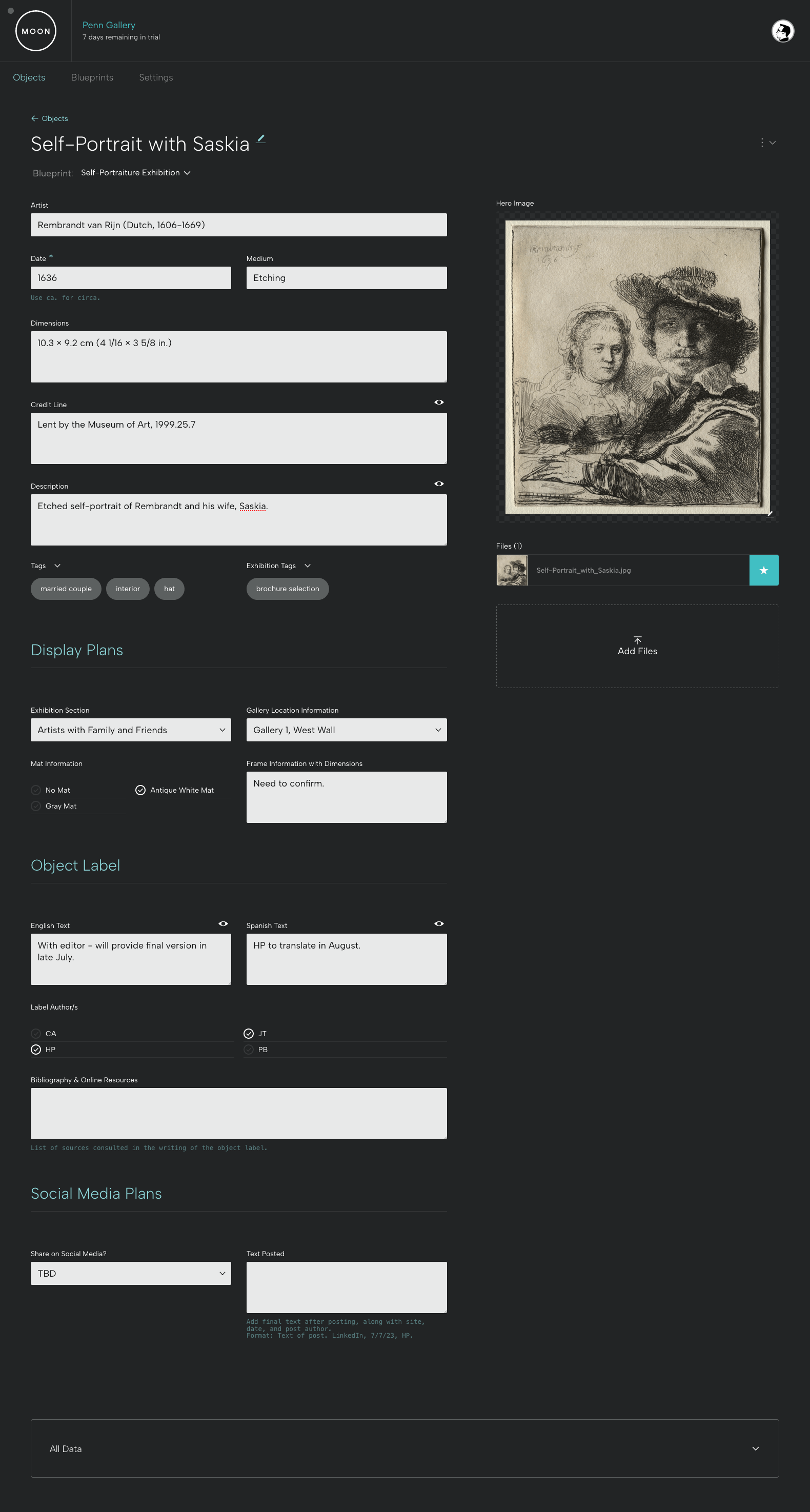 ---
Want to learn more? Check out this slideshow: Project Planning with the MOON Object System.
When you and your team plan a project with MOON, you can create, update, access, and share the data and content you need to make your project a resounding success.

Want to discuss project planning strategies and goals with us? Get in touch.